The preferred tip to mimick the SC on 2010 HSE is 11" long, the inlet is 60mm (on the HSE) or 2.375" the oval outlet is 3" high x 3.5" wide and it is a rolled tip w/ a 15" slant cut. I have been working with Gibson Performance on a Dual Walled Intercooled tip to slide right over the existing outlet - Stay Tuned for updates as the prototype is due out any day.
This picture is kinda what it will look like....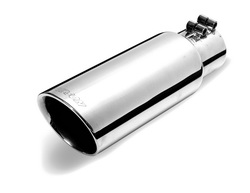 PM or Email me if you are interested in a set.
Adam