Discussion Starter
·
#1
·
Un-doing the viscous fan nut…..arghhhh!
Moto One asking about removing his alternator reminded me of the fun & games I had when I replaced the radiator on my '03 model (BMW M62 engine) recently. Everything was perfectly straightforward and went very smoothly except for the removal of the viscous fan. Obviously I knew that the nut had a left-hand thread and I managed to get hold of a thin spanner (32mm across flats) easily & cheaply from my local car parts place. The problem was how to stop the water pump pulley from rotating while I slackened off the nut.
From reading the BMW forums it appeared that many people got away with simply 'shocking' the nut without even having to hold the pulley. I had no such luck. In fact I was surprised how little torque you could place on the nut before the belt slipped.
Next I tried making up a holding tool for the pulley as described by the guy in this post :
http://www.bimmerboard.com/forums/posts/119957
Unfortunately this 'single hole' tool didn't work for me – the viscous fan nut still refused to budge and the tool kept slipping off the pulley bolt heads.
Next, I looked up details of the official BMW tool 11 5 050 which appears to be a 'twin hole' tool :
so I made my own and, well, it just bent like a banana and the nut still refused to budge :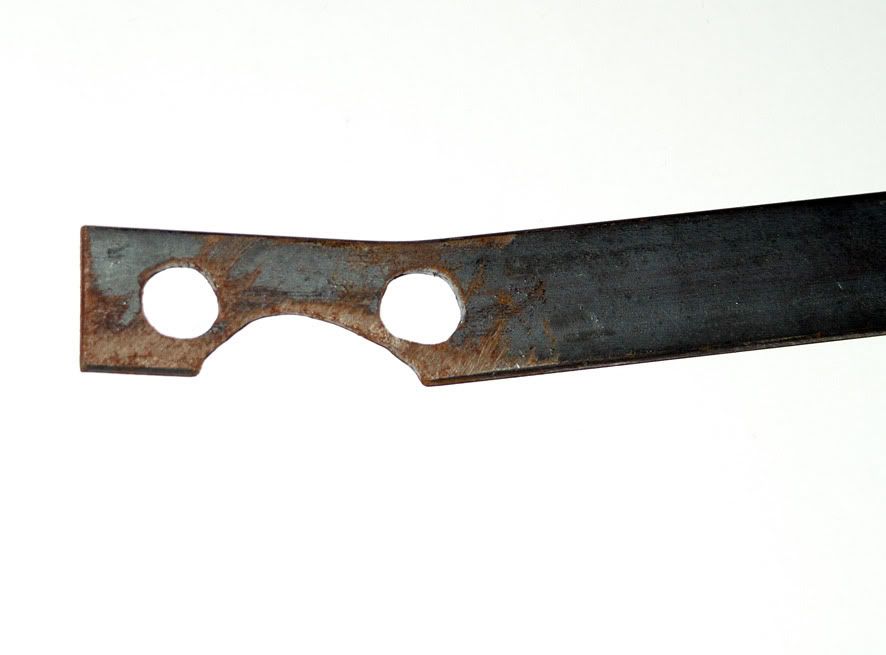 Obviously the bar needed hardening.
In the end I gave up and shelled out for the official Land Rover service tool (part no. LRT-12-215) which is a 'triple hole' tool.
I've placed an iPhone next to it in the photo below to give an idea of scale – it's huge :
Not surprisingly the fan nut came loose with one tap when the pulley was being held rigidly by this monster!
I got a new OEM radiator (i.e. manufactured by Behr, as was the original one that I removed) for £162 and the pulley holding tool cost a hefty £57 incl. postage, so the total job cost around £220 which I didn't think was so bad overall. (LR dealers charge over £350 just for the radiator, without fitting)
I used the tool again when I replaced the tensioner idler pulley set for the ancillary drive belt so, despite its cost, I think it's a handy thing to have around the workshop.
I wondered if anyone else had had more success than I at removing the viscous fan nut without having to resort to the expense of buying a special tool? In fact I seem to remember someone on this forum mentioning that he managed to change his radiator without even removing the fan?
Phil