Discussion Starter
•
#1
•
I searched the steering angle sensor module but couldn't find any post describing the same All-Comm error message.
2004 HSE with 106K miles. Everything works fine before the problem. While I was driving down the road at about 35 MPH, all of a sudden I got the Air Suspension Inactive on the dash, then the HDC, ABS, DSC and TC light were on. Then both the front suspension dropped to the bump stop, Trans Safe message, then limb mode. Drove 1 mile back home. Rear suspension still at normal ride height. Front left (driver side) suspension was replaced 6k miles ago, front right (passenger side) is probably gonna need replacement soon.
I checked the battery after I got home, which is one year old, 12.1V and 14.2V. But I will see if I can take the car to a mechanic to test the alternator and battery again.
I disconnected the battery and charged it overnight, just to be sure. The next morning I reconnected the battery and started the engine, the front suspension inflated back to normal ride height.
Reset the steering angle sensor by turning steering wheel all the way to the right then left then center. The Air suspension inactive message and the warning lights were gone.
Hooked up the All-comm and checked the Steering Angle Sensor module, and got this:
ERROR: Connection FAILED...
ERROR: Comms Offline. Please Try Again.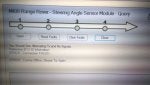 Air Suspension Unit query:
CAN bus Fault
Instrument Pack Module:
EBV function fault received from ABS ECU
Instrument Pack checksum incorrect
No ASC4 received from ABS ECU
CAN bus fault - No ASC1 received from ABS ECU
Transmission Interface Bus fault
So, first question:
If it is the steering angle sensor, should All-Comm report those 2 error messages? I searched and couldn't find post that specified the Steering Angle Sensor Module (SAS Module) I checked Rave and the SAS Module seems to be build into the ECU. Or the steering angle sensor itself IS the module?
I also watched the All-Comms video on how to troubleshoot K bus.
So I checked the fuse box to make sure all fuses are good.
Second question:
The video and also lots of posts here said one module offline can cause all kind of CAN bus faults. Based on the situation that I described, where should I start and what should I do to diagnose the problem?
Other information:
5 months ago I took the transmission out to fix the coolant plate leak at the back of the engine. Also replaced the coolant crossover pipe. Replaced radiator, all the cooling system hoses, all the thermostats, and new transmission cooler. Valley pan, and all the gaskets (intake and valve cover, etc) Basically an overhaul of the entire cooling system. Took the truck off road a few times since then and it was running great until now.
Thanks