Discussion Starter
•
#1
•
Hi guys.
I spent the newyears days installing an winch on my RRp38.
I been planning to do this for years, so now its finally done. The winch I choosed is an electric Smittybilt X20 10000LB 2gen. winch with syntetic rope.
Its a pedestraint friendly installation with the winch installed hidden in a tray boltet between the frame behind the bumper. I actually bought this winch tray kit some years ago from a previously banned member of this forum, who got alot of complaints for his kit build up, workmanship and so on. But the idea itself is a very good solution for winch installation on the RRp38.
The kit arrived more or less like an half fabricate, so I reworked it alot to try to take care of all the issues an complaints regarding this installation.
Result in this.
Front view.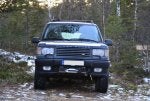 From underneath, shows the added laminated aluminium/titanium skid plate.
Cut-out in front bumper to access the clutch handle.
Front view.
Side view L/H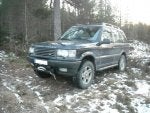 The winch tray this kit is based on ( actually from an humvee )
Im very satiesfied with how it works and looks in the end:razz:
Its an real strong and rigid installation with the tray boltet with some brackets between the frames aft of the crush cans and also with an U bracket boltet to the lower front crossmember going down under the radiator.
Best regards Brage.