2006-2009 Range Rover MkIII / L322
Discussion Starter
•
#1
•
Replacing Rear Wheel Hub & Bearing - Find Tools & Advice -
I'm a DIY mechanic and tackle pretty much anything that comes my way. The thought of going to the dealer, with anything but a bumper to bumper warranty, makes me cringe.
I'm mid way through a real wheel hub and bearing replacement and there is very little info on this procedure.
I have pieced together shop manuals, other posts and general internet search to get most of the way through this repair.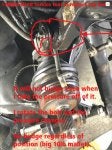 H
ow do I get the bolt off that holds the top bushing (I think it's the upper ball joint,?) for the hub assembly to the a arm?
I plan on taking it to my local machine shop and have them press it out and press the new one in.
I can't get this bolt out. Ive taken all the pressure off it. it is not bound, rusted or seized.
(I've coated it in pb blaster and waited a day nothing. I believe I am missing something simple.)
I can't upload the photos I have of the hub assembly top bushing
Thanks in advance if anyone replies!
http://workshop-manuals.com/landrover/l322-b/rear_suspension/repairs/ball_joint_upper/
http://workshop-manuals.com/landrover/l322-b/rear_suspension/repairs/bearing(s)_hub/page_600/