Discussion Starter
•
#1
•
Guys, and gals:
I have recently upgraded my tires to larger BF Goodrich tires and have been quite happy with them.
My only disappointment has been that there is not space in the rear wheel compartment to carry the new larger wheel and tire. I searched on RangeRover.net and several other forums and on google and either found very old posts from the last century or posts about completely removing the bumper at great expense and then mounting a swivel on the new bumper.
I have issues with doing this because if the P38 is severely damaged, I would want to transfer the equipment easily to another vehicle, like my L322 or another P38. After a lot of frustration, I started to look at what other vehicle owners do in the same situation and found a universal generic rear mount wheel carrier that fits in the hitch and still allows one to use the trailer hitch to tow a trailer or small boat. After ordering, and having my current hitch remounted by a hitch welding company I am ecstatic that I now have a rear mounted wheel carrier and do not have to resort to carrying the spare tire on the roof of the vehicle.
This is made by Wilco Offroad and their webite is
www.wilcooffroad.com
this is the (New) Off Center Wheel Carrier and they have accessories for fuel and jack mounting too. I have arranged for a discount code if anyone else want to order one, I am not affiliated with this company at all. If anyone would like to have the 10% off discount code you can private message me. I have an LED lighted number plate to still install and I added from Amazon the center wheel LED 3rd brake light.
Let me know what you think of this solution in the comments below!!!
Below are some photos of my supercharged 1997 Range Rover P38 4.6 SSE.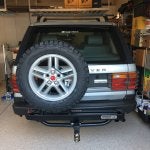 The Hitchgate swivels out to a full 180 degrees with a self-stopping mechanism.
The lower tailgate opens and has ample clearance above the hitch mount bar.
There is clearance for Jerry can & HiJack mounts between the wheel and tailgate.