2013-2015 Range Rover MkIII / L322
Discussion Starter
·
#1
·
if you have vacuum pump you can use it to flush/change steering fluid in your car. you will need 2 L of fluid ( I use Pentosin/FUCS 202.), plug of some sort to plug return line connection and a means to connect vacuum pump to the return hose. that is it.
First suck all fluid from reservoir, there is going to be about a finger of fluid left on the bottom due to mesh on the bottom of the reservoir. unscrew bolt holding windscreen washer fluid reservoir so to gain some space when removing return pipe on the bottom of fluid reservoir. (smaller of the two hoses is return). use pliers to move spring clip down the hose and remove hose. put cap on the nipple, fill reservoir with fluid, connect vacuum to the rubber hose and watch fluid go down. keep adding fluid as needed. when you see clear fluid coming out you are done.
unplug vacuum, take plug off the reservoir (use finger to stop fluid from escaping) and reattach return hose. fill reservoir to the mark and that is it. start the car, turn steering wheel full left to full right.
this was the first time I've change fluid, second time I went a step further, after sucking fluid from reservoir I used flash light to check inside and I could see debris on the mesh, so removed the reservoir and given it a good wash with brake fluid. as you can see from the pictures -good as new. put reservoir beck on and repeat above procedure.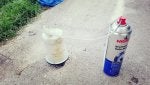 short hose on the reservoir is what I use to plug hole in reservoir.
Buba, :thumb:
,