Range Rover Sport 5.0 Supercharged
Discussion Starter
·
#1
·
Hi All, having moved from a Vogue to a Sport I was going to do a facelift but decided not to after picking up and fixing a HST bumper, really please with the result. It came in a real mess, I had to take out the back support section and replace it with one from the donor bumper that had the ACC part, it requires trimming to fit as its a standard part that Land Rover just trim down to fit into the HST bumpers anyway so no different to what they do at the factory.
Oh dear! guy slid into a bollard in the snow..
Let the clamping begin.
Donor bumper with ACC inner.
Start replacing main section.
Cut in to pull bumper back into shape.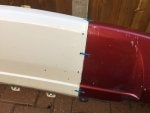 Drilled and tied to keep in place whilst epoxy cures from underside, (epoxy was done later and had to be used as the bumper is the wrong type of plastic for welding).
Bottom section in.
Time to trim the inner section.
Trimmed and ready to stick back in, I used Sikaflex, worked a treat.
Bumper back together and in rough shape.
And painted..
And fitted, You'd never know..