1995-2002 Range Rover P38A
Ok all I recently completed this task in my 2002 HSE with the premium Harman Kardon Alpine Sound system.
I read for many hours and gathered information before taking on this project.
It is not hard to do but very very labor intensive. I spent about 23 hours of the course of 2 weeks on installing the system
My rover is not my daily driver so I could leave it in pieces for days on end locked in my garage.
This is not a weekend project unless you have a friend or two to assist and lots of coffee.
First I removed the old head unit, 6 disc changer, amp and subwoofer amp and box.
Then I removed all the door panels, kick panels, rear truck panels, under dash kick plates, glove box, steering column panels etc. etc. I wanted to have noting in the way of running new wires to each door panel and the left rear quarter panel for the subwoofer box. I had the SAT NAV dash plastic which I had to Drexel out the edges and lips on all 4 sides for my head unit to fit. I installed a Pioneer AVHX3800BHS HU which has a 6.2 screen NOT a 7" screen as I wanted to keep it close to stock in appearance. I ran all new wires to each door panel and I recommend going from the door into the rubber boots through the boot and then down into the door. Especially for the rear doors which were harder. This takes time and patience but it can be done. Use a wire coat hanger cut about 14" long and tape it to your wire and then thread it through one piece at a time. I also ran a back up cable rca cable and wire through the tailgate, tailgate boot, down the left side of the truck to the front head unit for the back up camera cable and the reverse wire which needs to be wired to the HU so the HU knows when the truck is in reverse. (Purple/white) for Pioneer. This is a 22' run of wire FYI. I also had to cut into the heater core plastic housing to allow room for the HU to fit and then closed the hole with metal 3m tape designed for ductwork. This is a cut and test fit and then cut, test, cut, test for about 3 hours.
Best tool is a Dremmel and then a naked hacksaw blade in a gloved hand. Then I wired it up and drilled a hole in the truck to install the back up camera. The wires for this I fished through the tailgate the same way as the door.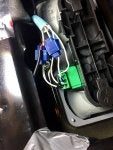 Connect to the white wires on the reverse lights to ground and power the camera. I have indicated the positive wire with blue marker and the ground wire with black. Make sure everything works before replacing all the panels in the truck. (3hours at least). And your done. Compared to the 5 hours on replacing my heater core with and Audi one this job was much much worse. Lol. I'll add photos. Pm with and questions. Hope this helps someone.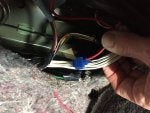 A pro install would have been $700 for what all I did. So I saved some cash.