Discussion Starter
•
#1
•
I did post this before but the title was misleading and the thread went off on a tangent because of it... I want to repost to be more focused on the engine/cooling rather than the electric fans which I now know are not the issue.
So to recap.. 1998 range Rover 4.6 HSE, 116k miles. Recent new radiator fitted, fan clutch feels ok, and is moving air at idle, and no leaks from waterpump or elsewhere. Heater core is bypassed before we bought the car due to a leak, but thought I would mention it.
What started this was the pressure cap was not screwed down tight or faulty resulting in coolant loss, GF said the temp gauge spiked in traffic here in California. I topped it off, Burped the system I think, yet the temp gauge will still spike almost to the red after 15 mins idling in the garage with ambient temps in the 80'sF. Last time I drove it, the gauge stayed a touch to the warm side of center while on the freeway at 70mph, but spiked again as soon as I slowed down.
Someone suggested I may have a headgasket gone, someone else a dropped liner or a porous block..
If I leave the overflow tank cap off and warm the engine, as soon as the top hose gets warm the coolant seems to expand out of the tank pretty fast and overflows. The top hose does get pretty hard and my testing was stopped for a couple of weeks because the pipe from the top of the engine to the heater sprang a leak and dumped all the coolant out(on examination, I think it was just old).
Also, maybe connected or not, I can hear a slight "chuff" sound from the RH head/exhaust manifold, that I have been unable to locate. I tried to remove the heat shield to locate the noise but one of the bolts holding it on wont come loose.
Yesterday I pulled the spark plugs on the Right bank looking for clues... all looked fine except the rearmost plug that has a brown deposit that the others dont...
Pic.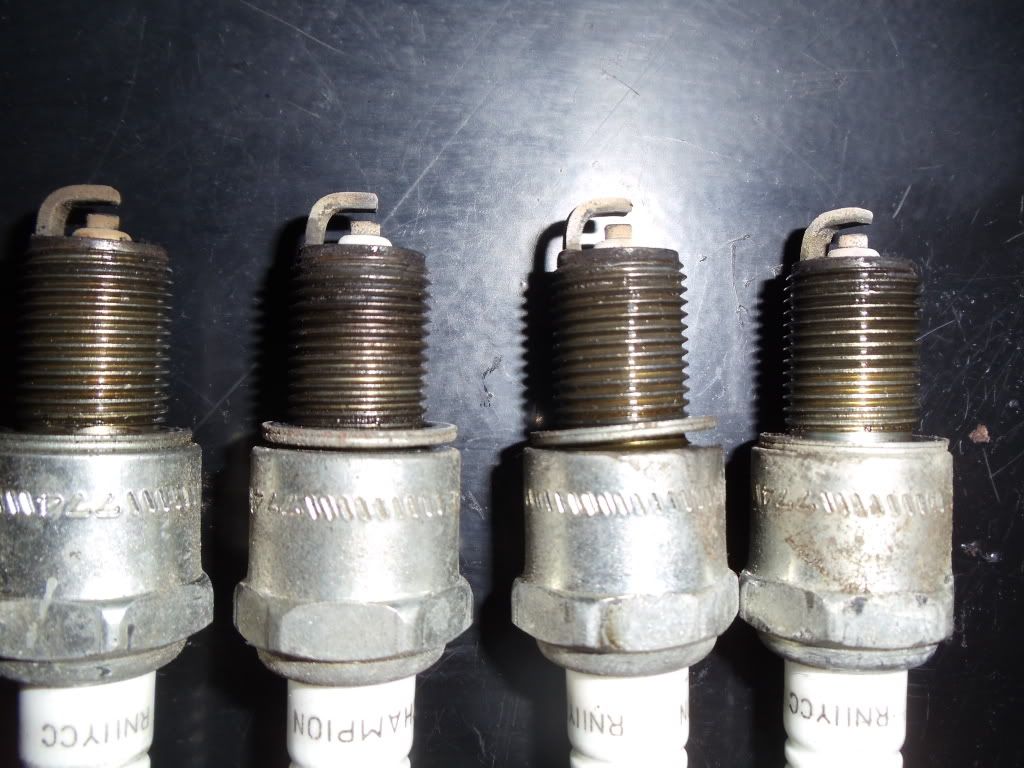 Can someone help me diagnose or pinpoint the problem?
I have good skills, and have rebuilt 3 engines in the last 2 years as well having a well equiped garage, including a compression and leakdown testers.
I dont want to rip the engine apart for a headgasket only on reassemble to find its the porous block and have to rebuild it again!