Discussion Starter
·
#1
·
Hi guys,
Sorry for the absolute dummy's guide question but can anyone identify the component highlighted below.
I have a broke bracket that needs replacing, which is hard to do if you dont know what it is !
It is a silver cylinder with Max 25nM on the hex "lid", with 2 great big braided hoses coming off the bottom and down the LH side of the engine.
Car is, 2004 Range Rover SE V8 petrol.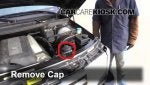 Apologies for the stolen photo !
Many thanks