Discussion Starter
·
#1
·
I recently got a slim 30" light bar and mounted it behind the grill. Sweet!
View attachment 266268
now for the hard part: wiring (or what I thought would be the easy part...)
I received a relay kit with a standard 2"x1" rocker switch but I'm not sure I'll use the switch. For one, its the switch is rather large and I'll have a hard time finding the space for it. Two, I'm squeamish running wires through the firewall.
I've never used my fog lights or felt a need to, so I'm thinking the easiest way to wire the light bar would be to trigger them off the fog light circuit. Trouble is, I can't figure out the relay location/situation...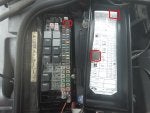 I found this relay in the fuse box, appears to be for the fog lights. however, I'm not getting a useful voltage reading on the pins. I'm getting 12mv and 20mv on the supply and gate pins, which doesnt make sense to me. If I pull the relay, the fogs don't work. Anyone know if this is the proper relay?
I realize I could tap into a wire at the fog lights to operate a relay, but ideally I could tap into something closer to the relay/fuse box.
This is the light bar and relay kit if you're wondering.
https://www.amazon.ca/gp/product/B076SV8CKK/ref=oh_aui_detailpage_o01_s00?ie=UTF8&psc=1
https://www.amazon.ca/gp/product/B074HC267M/ref=od_aui_detailpages01?ie=UTF8&psc=1