I can imagine - at that price. Do they really sell for under $300 in the States? From what I've seen (they're rare) they go for easily twice that over here - in Euros. They're still around a grand new, aren't they?
You ruined my chance to gloat! I picked up a rack a couple of weeks ago on ebay Germany. I stumbled across an auction where the seller had listed the item as 'Roof rack - poss for Range Rover' and added this pic: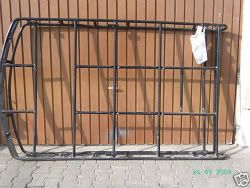 There was only one other bidder and, as I wasn't completely sure it was a MKIII expedition rack, I only bid up to €100 for it. Ended up getting it for €50 8)
Turns out it really is the expedition rack and in fine shape w/all hardware, and I thought I got a screaming deal and was going to gloat...