Discussion Starter
•
#1
•
Hi, guys.
I have been on this forum as a guest for a long time when I owned D2 and Range Rover Sport 2013 and started as a member just a few weeks back when I purchased a 2010 98,000 mile Range Rover 5.0 SC. Being relocated here to Madison, Wisconsin with half of the year being in snow, I needed a good 4WD once again and looked no further. I took it to the Land Rover dealer before the purchase for a Pre-purchase Inspection and came to know that the truck was in its most immaculate condition(they said w/ documents) other than the supercharger isolator spring making knocking noise at cold start for few minutes, but mentioned that it is not a mechanical issue to be addressed immediately other than the noise itself. So I bought the thing. Since then, I've found several issues with it and I like to work on my cars to learn them. Starting this thread, I will lay all the issues I have faced in categories of 1.Symptoms / 2.Codes / 3.Problem Source / 4.Solution / 5.Step-by-Step Guide(W/ Tools needed and helpful sources of videos and photos). Hopefully, you guys with the same problems don't have to search the web, call numerous people, taking it shops, trying to attach numerous hints into one single picture as I have.
*** I am not a professional technician. I have no prior knowledge of mechanics and electrics other than common sense and education from schools and college(not majored in such area). What I display here may not work on yours ***
1. Symptom:
Few days with the truck, the truck won't start. It cranks normally but just won't turn over(actually start). When it seldom does turn over, it stalls after a few seconds. I'd done nothing to it, then a few hours or days later it starts itself again. This intermittent starting issue really had me so I decided to find the problem to it.
2. Codes:
On my scanner, the error code read as follows:
#1 P0627-00 Fuel Pump A control - circuit/open
#2 P008a-00 Low-pressure fuel system - Pressure is to low
3. Problem source:
By reading the codes fault message, I've noticed that there is an open loop in the electrical source from the fuel pump, 'open loop' meaning there is a cut in the flow of signals being sent to the ECU from one of the fuel pump wirings.
The #2 code mentions it has low-pressure fuel system, which I assumed this was caused by #1 code, the open circuit. So I have searched google, through many different sources, spending hours to find the solution to it. and all of the ones I've found simply replaced the fuel pump itself as a whole unit with an expensive price tag with it.
I decided to see if I could at least find the problem to it, so I don't get scammed by them mechanics at Land Rover and successfully managed to locate the fuel pump and find access to it.
4. Solution:
Find the open circuit(short on wirings) on Fuel Pump.
5. Step by Step Guide
*** Tools needed ***
1. Electrical contact cleaner
Link:
https://www.amazon.com/CRC-05103-Electronic-Cleaner-11/dp/B000BXOGNI/ref=asc_df_B000BXOGNI/?tag=hyprod-20&linkCode=df0&hvadid=198054130793&hvpos=1o2&hvnetw=g&hvrand=8571759897214928440&hvpone=&hvptwo=&hvqmt=&hvdev=c&hvdvcmdl=&hvlocint=&hvlocphy=9018938&hvtargid=pla-379166032540&psc=1
2. T47 socket and wrench (Drill preferable for convenience and time saving)
3. Trim removal(or flat head screwdriver)
4. Dielectric grease
Link:
https://www.amazon.com/Permatex-22058-Dielectric-Tune-Up-Grease/dp/B000AL8VD2/ref=asc_df_B000AL8VD2/?tag=hyprod-20&linkCode=df0&hvadid=312442771380&hvpos=1o2&hvnetw=g&hvrand=6689461255066750698&hvpone=&hvptwo=&hvqmt=&hvdev=c&hvdvcmdl=&hvlocint=&hvlocphy=9018938&hvtargid=pla-434092625191&psc=1
5. Q-tip(for cleaning the contact area where open circuit is present)
6. Bungee cords(or something similar) to hold the carpet up while working.
Link:
https://www.amazon.com/gp/product/B00S7HKJ1I/ref=oh_aui_detailpage_o00_s01?ie=UTF8&psc=1
7. 10mm socket
8. angled picker (Couldn't find the right picture. Just get the idea of what you would need. The connector is very narrow and no room for even the smallest fingers).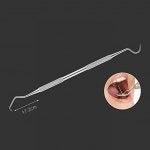 *** Helpful Source ***
1. Fuel pump replacement video clip/ Youtube
Link:
https://www.youtube.com/watch?v=_n0KJjVyf10&t=298s
(2:26 ~ 3:18 / watch the entire clip if you need to replace the entire fuel pump assembly, looks complicated, but not so difficult to DIY)
*** Guide ***
1. Fold the rear seats all the way forward (shown in the video link above at 2:10-2:14).
2. Remove the spare tire cover (shown in the video link above at 2:19-2:20. just pull the handle on it back and up from the rear of the car with trunk fully open).
3. Detach the lower part of the wheel housing cover (black) on both sides from the C pillars (shown in the video link above at 2:30-2:34).
4. Pop out 2 plastic covers from the carpet floor (shown in the video link above at 2:38-2:40, but he did not pop it out separately. I tried and the cover flew out of the car, so I recommend you to pop it out first. Keep it in a safe place to prevent from losing it/ 2 black covers).
5. Remove 2 handles(literally 'HANDLES') w/ T47 and wrench (shown in the video link above at 2:43-2:51. Keep it in a safe place to prevent from losing it/ 4 bolts and 2 handles).
6. Pull the carpet from the rear side(where it meets the spare tire compartment area) and pull it as far as you can, and fix it w/ bungee cord (shown in the video link above at 2:56-3:15).
> There are two identical fuel pump covers. One directly under the left rear seat and the other under the right rear seat. The left one is the sending unit and the right one is the actual fuel pump assembly. There can be many variations on which to disassemble, but most of the time, it's the right one with the fuel pump assembly that is at fault. As you can see in my photo, I only bungee corded the right side, where my problem would most likely be(The actual socket, connector to ECU is located here) <
> It is not necessary to take the whole seat out of the car even if you have to replace the entire fuel pump assembly. Just by folding it completely and fixing it with some bungee cords will do. <
7. Unscrew the 4 bolts w/ 10mm socket and wrench and remove the cover plate (shown in the video link above at 3:34-3:40. Keep it in a safe place to prevent from losing it/ 4 bolts and black cover plate).
8. Pull out or push in the black-rubber seal in the middle of the cover plate (shown in the video link above at 3:45-3:57. Pushing it in as the video was easier for me, because the rubber hole is not wide enough to be pulled back through the thick wiring harness).
9. Disconnect the white connector (shown in the video link above at 4:24-4:34. during this procedure, make sure to check other areas under the carpet where some part of wiring from the fuel pump may have been damaged, corroded, disconnected, etc).
> The video shows that he disconnects all tubes and the connector, but when it is a open circuit error, go for the connector first and save the hassle, bacause the problem is highly concentrated on the connectors and sensors. <
10. Visually inspect first to see if there is any noticeable issue (In my case, it was pretty obvious. Make sure to check on both the male and the female socket as usually is there is a problem, it's on both of them as one affects the other.).
> As you can see in my photo, I could easily diagnose the issue. It was one of the pins in the socket that was corroded. To find out what caused it, I sprayed the electric cleaner to a certain level and soon it was bubbling. Which means that the fuel was leaking through the connector socket as it aged on that particular pin and explained why I had intermittent events and not permanently. <
11. Spray the socket on both the male and female sockets w/ electrical contact cleaner and clean it thoroughly w/ q-tips as necessary (electrical contact cleaner chemicals will evaporate quick and easy. It helps to blow some air for a second or two).
12. After it is thoroughly cleaned on both the male and female sockets, put some dielectric grease on the q-tip and rub it gently also on both sockets (I used dielectric grease, not only to clean the corrosion but also to prevent further corrosion in the future)
13. From this point on, reverse the steps back to 1. until the rear area is back to its original position. Done.
It has been 2 weeks since I fixed it, and so far no problem with the truck at all and the scanner shows no more fault codes with the fuel pump issue. Yes, it is much more simple just to take it to the dealers, but I do not recommend it. It's not just the cost, but the possibility of dealer replacing the whole thing for something so simple, getting to know your car teaches you a lot through DIY, and you can be more knowledgeable in the future if you have to disassemble anything from the same area, which will take whole lot less time the second time you do it.
I hope my minute knowledge and experience can save you guys time and effort as it's really a simple problem to fix. If taken to a dealer, they will replace the fuel pump assembly and with labor, it will cost you around $2,000 (They asked $740 for the fuel pump and $1,600 for labor over the phone).
Any questions, I will be glad to answer.
Thank you.