2010-2012 Range Rover MkIII / L322
Discussion Starter
·
#1
·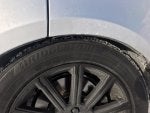 Hi guys,
I was having a blast with my RRSC 2010 until a couple of days ago, I got out in the driveway to go out to work. Got in the car, started as normal and drove out to the street. After like 30 seconds onto the road, I noticed the ride was pretty hard as I have never experienced this before. So I got out of the car and saw all 4 air suspension way lower than usual, almost to a point where I couldn't fit 3 fingers in the gaps.
So I brought the car back home and this time to my garage. Turned off the engine, started again and the message shows "Vehicle is raising" and I hear compressor trying to work on it but no luck.
Scanner shows ride control module 'motor temperature' not saying whether it is too low or too high and I have no idea what motor it is talking about. So after few days, which is just now, where it's 12 degrees F so I started the engine, same message with 'suspension fault' in yellow and 'drive below 30mph' in red.
I used the service option ion the scanner to deflate the entire thing to see if anything is wrong with it and the suspension has been deflated, including the reservoir, successfully. But when I try to have it in the normal height mode, which inflates air back into it, same message and no change in the height. It is so low right now I couldn't drive it to a shop at this point.
My question is, when this happened, I parked the car outside and it was -16F. I am here in Madison, Wisconsin and it will be -32F tomorrow. Can such a thing could happen when it's extremely cold?
I have read many threads here regarding cold issues, but most of your temperature was not even close to what it is here now and most cases, the car came back to its normal height after restarting the engine, which in my case it is not.
I'm just hoping that this will come back alive when it gets warm.
Has anyone had been in such a situation? can you share your solution or outcome after it got warm?
* New battery and new air suspension set installed just a few months back
I'm thinking to replace it permanently with strutmasters coil spring suspension, cuz I can't handle this every winter here in Wisconsin where gets really cold. Just concerned if all suspension had gone bad or not.
Can anyone recommend an aftermarket coil spring suspension and how much the difference it gets with the air suspension ride quality? Arnott or Strutmasters?
Safe driving!