Discussion Starter
·
#1
·
Hi folks, I'm in the middle of the timing job on my 2012 RRS SC. As part of that job on an SC car, you have to remove the supercharger. Well, after removing the supercharger I noticed that my intake valves were
VERY
badly coked with carbon (pics further below). So I started a thread
here
on the forum inquiring how to fix the problem. In that thread "Roman NJ" mentions a procedure called "walnut blasting" that is sometimes used to clean intake valves.
After researching the walnut blasting technique, I came to understand that virtually every single manufacturer that makes Gasoline Direct Injection (GDI) motors is struggling with this carbon coking problem. In fact, at least one manufacturer, BMW, makes equipment specifically designed to clean intake valves.
Here
is a thread detailing the BMW equipment. You can assemble equipment that does the exact same thing for less than $150. (or even less if you really want to get crafty)
This coking problem occurs because with GDI there is no fuel washing over the valves like there would be with traditional port fuel injection. To keep this problem from reoccurring in the future, I will be installing an oil catch can (this all but eliminates this issue - more to come on that later in a separate thread). If your vehicle has more than 40 or 50K miles, I guarantee you your valves are coked with carbon.
If you google "walnut blasting" you will find a LOT of info. Some of the links I found very useful were:
Youtube Video
detailing the procedure and tools
Cheap solution
for building the blasting gun
Here are the tools that I used to complete the job:
Harbor Freight Portable Abrasive Blaster (Part number 37025)
. Note: don't waste time with any other abrasive blaster. I learned this the hard way, my pain is your gain. This thing works perfectly, and it's $30: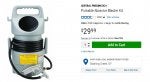 Harbor Freight FINE grit walnut media:

BMW vacuum attachment part number 81 29 2 208 037
. Note: if you search this procedure you will find lots of folks are making 3D printed versions of these attachments. I actually ordered a 10 piece ebay kit of 3D printed attachments in the hopes that one would fit well - it was a complete waste of money. Buy the BMW tool - it's ultra high quality and will literally last forever. Again, my pain is your gain.
The adapter above is a vacuum attachment, so you need a Shop Vac. Assuming you have a Shop Vac, you probably already have this attachment, but you will need it, I actually cut off the last 2 "steps" to provide a larger diameter for the air to enter: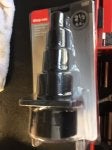 Drill attachment
. Some of the threads on walnut blasting don't show using anything like this, but I found that this certainly released a lot of carbon. I recommend something called "Bench Buddy" - transmission shops use it for cleaning valve bodies:
Endoscope/Boroscope
. Don't even attempt the job without something like this. I found this little gem on Amazon, it was invaluable. It connects wirelessly to your cell phone. I couldn't believe how well it worked honestly:
A set of long picks.
This is mandatory. There are spots that the walnuts simply can't blast well enough. I got these from JH Motorsports and they were fantastic. Note: I tried their wire brush but it basically disintegrated and made a mess.
And the piece de resistance, the blasting tool itself. This requires a bit of assembly.
You will be modifying the blasting gun that comes with the Harbor Freight blaster. I mention
this
thread earlier. It was incredibly helpful as I struggled trying to make a standard compressor blow wand work with the HF blaster gun. Again, my pain is your gain. In the thread he mentions Watts fitting part numbers. My Lowes didn't have Watts fittings, they had ProLine. For the compression fitting at left you throw away the small ferrule, just keep the 2 larger items.
You will need a decent length of metal "toilet tube". My Lowes didn't have this, but Home Depot had the part shown below. It's 20" but I cut it to around 12". Note the OD MUST be 3/8" if you are going to use a 3/8" compression fitting:
Finished tool:
To assemble the tool, you jam the barbed fitting shown above into the gun as far as it will go. (note you need to remove the white porcelain piece that comes with the gun) I did use my dremel to remove a very slight amount of material from the bore so that the barbed fitting would insert into the gun. Then you assemble the compression fittings to hold the toilet tube on the gun.
One other item that had to modify was the BMW vacuum attachment. It won't fit into our intake ports without cutting off a bit from the end of it:
Also, the 3/8" toilet tube won't fit down into the small hole in the vacuum attachment, so I used my dremel to open it up a bit. Note that you need to remove enough so that you can roll the gun around and hit as many spots as possible in the intake port:
At this point, you are ready to go.
The method that worked best for me was:
1. Spray walnuts for 30 sec to 1 minute
2. Use picks to loosen difficult spots
3. Repeat 1 & 2 about 5 times
4. Use drill attachment (Bench Buddy) for a minute or so
5. Repeat 1 and 2 a few times
6. Spray CRC Intake Valve cleaner into port deep enough to cover entire valve and let soak for 20-30 minutes - while the CRC was soaking I would take the picks and roll them around to try and brake up any carbon that sat right on top of valve or valve edge
7. Dry port as best as possible. NOTE: lots of folks warn about vacuuming up the CRC cleaner since it's combustible. Get the port as dry as you can before proceeding.
8. Repeat 1 and 2 a few times
Looks like I'm at picture limit in this post - see next post.