2006-2009 Range Rover Sport
Discussion Starter
•
#1
•
Here some pictures I took while installing an aftermarket backup camera to my range rover sport 2006 supercharged. The camers is common on the internet and the same for the freelander. The camera will fit at one of the numberplatelighting holes.
First you pull out the 'old' numberplatelighting, I choose the left one, the right will give you more sight at the right side of the car;
There is no easyway to hide the wires, so I choose to lead the wires along the backwindow where it is out of sight, therefore you need a space to get the wire out of the opening;
Here the camera is in position;
And with the door fully closes it looks like this;
The cable connected directly to the camera is short, so you have to extend the cables directly near the camera, i used the space behind the plastic of the motorised lock;
And with the plastic back on it looks like this;
Then is used black tape to guide the wires to the top of the window, okay, you can see it now, but not with the window closed, and when the door is open, you also can't see the tape;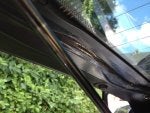 Now you have to guide the two wires from the window to the ceiling of the car, first from the window to the door, you have to remove the plastic at the top of the window;
And second from the door to the ceiling;
The wires I've taped against the rubber which contains original wires;
The result so far is the next picture in the following post, two wires hanging out of the ceiling....