2006-2009 Range Rover Sport
Discussion Starter
·
#1
·
Paul and 3E's recent river fording pictures inspired me to do some river fording myself. So after several nights spent going over topo maps until the early hours of the morning, I picked a suitable river and fording spot. Needless to say, the 4 hr drive seemed like 4-1/2 hrs-- I just couldn't wait to get there. When I finally got there, I wasn't disappointed.
The river…
Preparing to go…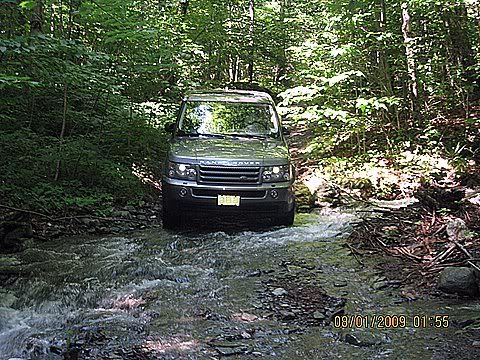 As you can see, the current was quite strong. Good thing I had the stock 19's on because during the crossing, the water actually came up over the bottom lip of my wheels at one point.
But I made it!!!
Anyhow, couple of things I learned, especially for newbies wanting to try this:
1. Always test the depth and probe the river bottom with a stick. Fortunately I was in a forest and there were plenty of sticks.
2. There's no water fording icon on the terrain selector knob :evil: . This threw me for bit so I pulled out the manual to check if I was missing something, nope---maybe on the '10's? I used the rock crawl mode and that worked fine.