Discussion Starter
•
#1
•
So I have very violent steering wheel wobble at speeds of 50+. it happens usually when I hit a bump at that speed, or sometimes banking.
I have been reading a lot about death wobble and think I may have found its source.
so far I have inspected the steering shaft for loose bolts, (none)
looked for bent rods (none)
inspected some bushings (most seem okay)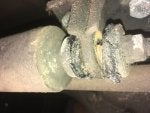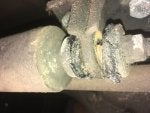 I found this on the steering dampener. The rubber has degraded far past 50% leaving a lot of play. Also the dampener itself rotates about 20 - 30% when I try and spin it.
Could this be the cause of the Death Wobble?
I also know the truck has been sitting for a a couple years. I read that unbalanced tires or tires that have a death spot could cause death wobble. I don't believe this is the cause as the shaking only occurs after I hit a pot hole or minor bump.
any help would be appreciated.