1995-2002 Range Rover P38A
Discussion Starter
•
#1
•
Some time ago a question regarding Callaway-specific gaskets came up. Technically Callaway gaskets exist as part numbers, but good luck in finding new stock. Will existing stock items work?
I decided to replace my head gaskets to find out. Turns out the current stock gaskets will work. The differences are minor.
Descriptions are for the image below the text.
Here's the (dirty) engine bay. Unique Callaway stamped plenum and carbon-fiber intake elbow. The Callaway air filter element (not pictured) is cotton-type (like K&N) with Callaway molded into the rubber gasket sides:
Intake plenum off. I don't have a stock 4.6L to compare to, but here are the intake trumpets off the Callaway, something that are supposedly different:
Intake valley gasket area. I was getting a some leaks from the rocker covers and intake heater plate. Possibly even some valley gasket leaks. I know my block was pretty coated in oil.
Here you can see how the Callaway gasket matches up with the Callaway-machined ports in the heads. The gasket is still a tad larger than the ports, particularly vertically:
Stock replacement gasket laid on top of the old Callaway gasket. Port openings match exactly:
Side by side valley gasket comparison. I've circled the only really relevant differences. The Callaway bolt holes are all shaped/rounded, there's a slight difference between a bolt hole and a notch, but none of these details affects the way the gasket works. So the stock gasket is a perfectly adequate replacement. Note the faded "Callaway" sticker that brands all Callaway modified parts (plenum, intake, gaskets, gasket clamps, heads):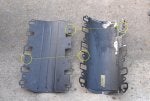 Gasket to intake manifold comparison. New, stock gasket, obviously, doesn't impede the airflow of the Callaway ports in the intake manifold. But note, that while the head to gasket match is pretty close to the gasket cutout dimensions, the intake ports are smaller. That should be OK, though, as a step down/out from the intake manifold to the heads is preferable to a restricting step up/in.
Also note the end of the gasket closest to the camera. The gasket has been stamped for a water passage, the head has this passage open, but the Callaway intake manifold (as pictured here) doesn't have the same passage. It's just blank. It's also interesting to note that even the Callaway-specific gasket had the passage stamped out: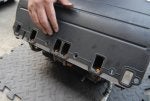 Here are some noticeable machining marks to the corners of the head ports:
To be continued...