Discussion Starter
·
#1
·
I bought my 91 RRC then flew from Portland, OR -----> San Diego with the plan to drive back on CA Hwy 395 through the Sierra Nevada Mountains. 99% of the people I told this to thought I was a little nuts. I was a first time Range Rover owner, I was buying an RRC I'd only seen in pictures and a few videos, then driving it 1200 miles... Here is what happened:
After months of looking all over the web and asking all the RRC owners I ran into I spotted the car on craigslist, the ad was two sentences long and included two not so great pictures (see below), and the bold headline ***REDUCED PRICE FOR QUICK SALE*** I was skeptical but hopeful. After a lot of emailing with the owner I was getting pretty stoked on what I was hearing... Two owners, regular maintenance, records since new, no rust but typical wear and tear for a rig with close to 150K, plus it had always lived in the dry San Diego climate. The worst part that I could see in the pictures and video was that the hood and roof were pretty faded from the sun and the drivers seat had begun to separate on a bottom middle panel. Other than that all the electrics worked, it had a fresh oil service and clean recent inspection...I agreed to buy it sight unseen and without a PPI. The price was right so I knew if it turned out to need some major work it would still pencil out. I booked my flight and I started mapping out my route.


Needless to say I started researching the hell out of what tools and parts I might need if I encountered any issues on my trip back. I spoke with a mechanic at a local Land Rover shop to get his perspective and he told me to bring a set of metric wrenches, radiator hoses, a couple of screwdrivers and then when I got to SD head to a local parts store and grab coolant, oil, hose clamps and some duct tape. I hopped an early flight out of PDX with a connection in Boise, I was due to arrive in SD at noon. During my layover in Boise I got a call from the owner. He had got the Rover detailed for me and decided he wanted to drive it one last time to work...the water pump failed on the way but it was at the shop getting a new one put in. Needless to say I was left wondering and worrying that this was a sign of what was to come. The owner picked me up at the airport, and we went straight to the shop to see my new RRC. It looked good and I was actually grateful that the pump went out on him rather than during the first 10 miles of my trip back. We split the cost of the new water pump and I was on the road a little later than expected.
Consider it love at first sight.
For the first hour of my drive in California rush hour traffic I think I was watching the coolant temp more than I was actually watching the road. When I made it to Escondido I was feeling pretty confident that things were working out great... then a light on my dash started flashing. FML did the water pump fail? Did a hose blow? WTF is going on? I pulled over, grabbed the owners manual and sure enough it was the coolant level light. I popped the hood and checked the coolant it, was still full, then I checked over the wiring and that's all it was. One of the wires to the sensor had broken off at the plug. A quick stop at AutoZone and a cheap, quick fix electrical kit, a burgar and fries at In-Out Burger and all was well in the world. On the road again.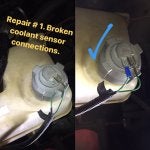 I'm now heading to my first over night stop in Mojave. I chose to stay the night in the middle of nowhere so I could wake up and start my accent into the Sierra Nevada's in the daylight. This was the part of the the road trip I didn't want to miss. Going from sea level to 8,000+ft elevation was going to the next test of my new RRC. This is what my first morning looked like in

Red Rocks Canyon State Park
On to the next stop. Just outside of a little town called Olancha (elevation '3658, population 192) there is a couple of famous sites within a few miles of each other. First was

Gus's Fresh Jerky

. I'm pretty sure this is just an old service station but now it's a sticker covered building full of, you guessed it, some **** good jerky. After trying a few different samples I bought a bag and snapped a few pictures. Next was the Lemon House, there isn't a lot to see here just a house that looks like a lemon and the dinosaur.
I'm a quarter of my way through the road trip home and at this point and the RRC is running like a champ with just a couple of small drops of oil underneath. From what I can tell it's seeping from around the oil pan and maybe a bit from the transmission pan. I've also noticed that after its warmed up and been driven for a while shifting into reverse cause a noticeable clunk. Nothing crazy and it's not an issue at this point but its been added to my short list of diag upon my return. Next stop the Alabama Hills and the steady climb into the Sierra's. Part two coming Shortly.