Discussion Starter
•
#1
•
My valley gasket was leaking like a tea bag and i decided to do something about it, i stripped down the to valley gasket and then i saw the state of the camshaft, oh dear me.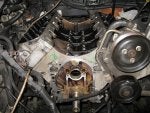 The block cleaned down, camshaft removed.
Not the worst, but almost 0.020" missing of this follower.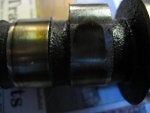 If you look closely, the lobe is pitted and starting to break up, this lobe appears to have lost about 0.040" off the tip.
My 4.6 HSE 1996 has done 108,000 miles. It always started off the key, and apart from a bit of a wobbly tickover it's never given me any problems, i thought it was a little breathless but it is 16 years old. I had recently checked the compression pressures which seemed quite healthy at between 160 and 170psi cold. I had no idea that the camshaft could be such a major issue.
A chat to Chris at RPI reveals that this wear is perfectly normal, in his opinion these followers can wear out in as little as 60,000 miles, and certainly around 80,000 miles. I couldn't believe what i was hearing. He also told me that the cam chain would be completely shot, and it was.
I thought these motors basically lasted forever!!
The Piper Torque Max appears to be the replacement of choice and a set of OEM lifters a must. Has anybody else experienced cam failure like this?
Stripping down i found that a number of bolts were loose, mainly around the inlet manifold. The bolts holding the front cover seemed to have thread locking agent on them, on the others it was harder to tell. Is thread locker recommended?
I thought about removing the heads but have so far relented because of the issue of stripping the threads, and a new stud set is remarkably expensive even if i manage not to strip the threads in the head, i think i'll leave them alone.
I can't stress enough how well this truck drove, i wonder how many others are driving around not realising that their cams eating itself!!