1995-2002 Range Rover P38A
Discussion Starter
•
#1
•
Hi All,
I wanted to share my recent experience with all of you. I had searched long and hard for an OEM winch mount, and was unable to source one. I really didn't feel like spending $1000+ for a winch bumper, so I found a seller on ebay, bmw_rocket_science, who makes a winch tray similar to the OEM. I decided to take a risk and purchase one. I don't know if I can post the ebay link here but if I can please inform me and I'll do so. The seller had it listed for $375 + shipping with a "make offer" option. In the end I got it for $275 shipped.
Issue number 1: I bought and paid for the mount on 11/15/2011; waited 4 days for some tracking information to be received - nothing from the seller. So I messaged him. He says his name is Michael, but his Paypal address has a name of Joan. He stated that he was waiting for the mounting bolts to arrive and that he should have them within 1 week. That was on a Monday. I waited until the following Tuesday, the Tuesday before Thanksgiving, and no response or tracking info from the seller. I messaged him, he doesn't respond until the day after Thanksgiving, and tells me that it has shipped. He provided a FedEx tracking number. I wait 5 days, no activity has posted to the tracking info on the Fedex website except for "shipment information received". I message the seller telling him that no tracking info is updated, and that it doesn't take Fedex Ground days to deliver from FL to NC. He agreed, and stated that he will look into it. He responds back stating that because he overpaid the shipping costs, they did not ship the box. I called him out on that - BS. I also called Fedex and they told me that not only would they never do that, but also that the tracking number being referenced had a destination of KS. I don't live in KS. I message the seller back, furious at this point, and he responds that he'll look into immediately. TO his credit, he does, and responds rite back. He stated that the Fedex people had put the wrong label on the package, and that it was now fixed. I told him if I did not have a valid tracking number by noon the next day, Sunday, clearly showing the destination to be Charlotte, NC, that I would file a dispute with Paypal. I waited until 2pm the next day - nothing. At this point I filed the Paypal dispute for item not received. He sends me a new tracking number, and it does show the destination to be Charlotte, NC. I call Fedex to confirm the recipient info and they confirm. TO make a long story short, It finally arrived this past Wednesday. I have all of the messages sent through ebay that I can post up here to prove everything that I just wrote.
The tray itself - it seems decent. The brackets, however, are absolute GARBAGE. Please see the photos below. All of the individual pieces used to build the brackets are of disproportionate sizes, cut off-center, are jagged and have lots of metal flashing on them from the cutting process. The welds - a blind man with no hands could have done a better weld job. The weld beads are very inconsistent, and there is spatter present everywhere; once again refer to the photos. So I messaged the seller again, expressing the aforementioned concerns. I stated that due to the delayed shipping, and the poor quality of the brackets, that I was requesting a refund of the shipping costs. The seller agreed, stating that he would refund my shipping costs, and that "he is more than willing to work with me". That was yesterday. I advised him that if I did not receive the refund within 24 hours, that I would file another Paypal dispute for Item Not as Described. The listing states that the winch tray depicted in the photos was made out of scrap metal, and that if purchased, all components would be new. I messaged him back earlier and have not heard from him. I advised that I have searched him, and have encountered numerous posts on the Bimmer forums stating that he engages in bad business practices, and that I know that he has been banned from forums for said practices. I stated that if the refund is not received that I am going to start threads on all of the Land Rover forums warning members not to do business with him - No response from him as of yet.
I have done research on him, and it seems from numerous posts from mostly Bimmer forums, that he has been banned for unprofessional business practices. He apparently sells poor quality items, uses photos of forum members' cars on his website without their permission, etc. The following link is just one example. He apparently has used other similar names on forums after being banned .
http://www.bimmerboard.com/forums/posts/745994
I don't even know if the brackets will mount up correctly to the frame rails. And since my winch is back-ordered for the next 30 days, it will be at least that long before I know if the entire things even mounts up or nothing but a pile of scrap.
So check out the photos regarding the brackets, tray itself, etc. The brackets are absolute garbage and and he knows it. As such, the entire winch tray is useless. I'm going to post the entire message log from ebay.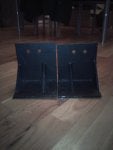 Nice craftsmanship, huh?
Here is the ebay message log, from newest to oldest: