Posting this here because I didn't find great info out there. Sorry for the short post, if you have questions just ask.
2001 P38 with HK system.
1. Pull sub. Bin it.
2. Pull factory amp behind the carpet. To bypass the amp: At the amp wiring hardness: cut yellow green and green yellow (front left large speaker) cut yellow black and yellow (front left head unit). Connect yellow black and yellow green and yellow and green yellow. Cut red black and red (front right head unit) cut green black and black green ( front right speaker). Bond together in same fashion to keep polarity. If you want your rear speakers you need to do those too (I didn't). Cut both pairs of orange and orange black wires (sub head unit and sub speaker ) solder those together. Tuck the harness away. Sell it bin the amp.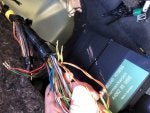 3. Place a Kicker 10in compact sub on top of the spare tire (plenty of room!). Pull in orange/orange black from step 2, then from the old sub connector purple power, black earth, and blue(?) remote (forgot the color but it's the last wire left on the harness). I can dig it back out if you have trouble here and snap a pic.
4. Pull both door panels. Replaced bass speakers with kicker CSC65 2-way 6.5 in units. Screwed right in to the factory speaker mounts. Disconnected the mid and high speakers.
5. Pull factory head unit. The used an off the shelf harness. Harness did not support a sub so wired up rca connector to the sub out on the unit to the orange/orange black wires from the old head unit.
Optional: Open beer and enjoy in the driveway.