Discussion Starter
·
#201
·
I'm glad I'm not the only one here that "Didn't Enjoy" removing the entire bumper... I've been turning wrenches for almost 20 years and the front bumper removal took me a total of (3) hours to do. Of course I went slow making sure not to break anything or ruin any wiring or sensors but some of you guys are reporting of doing the bumper removal in under an hour. They must have done it before... I expect reinstalling the bumper to take about an hour now I know the sequence and am comfortable... But I'm with you BillyBobRRS... I never ever want to have to remove that front bumper for anything ever again... I had to remove mine due to the driver's side camera being pushed in it's recess bracket by a rock from a dump truck and no matter what I tried I couldn't get at it to reset it or even know if I could. All that work for a literal 1.5 second push back the camera into it's bracket. I electrically tapped the piss out of both cameras and the ear tabs making them pinch those cameras harder into their brackets...

Dealer quoted me $740 each for new camera's with spotless lenses and I just kindly laughed and said I'll keep using my current ones. I wish I could just change out the plastic clear lens cover but know that isn't an option.

Cool for all you guys that installed an ACC and like it. I'm too much of a "Control FreaK" to trust that feature or I'd be all over the install considering the front bumper is on a rack in my garage. Good for you guys! Mine came with the Auto Dimming Mirror with the camera pointed out the front but not the ACC radar which seems weird to me.

Anyone know what the "Condensers" are for behind where the fog-lights sit that flank the main middle radiator? Just curious as to their function. I suspect they might cool the AWD system and Tranny but that is just speculation!

Pic of her all freshly disassembled while out in the rain today... That certainly didn't help with the removal process time I can attest!
They are the heat exchangers for the air to water intercooler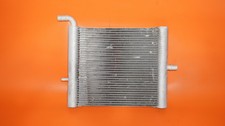 Find great deals for RANGE ROVER SPORT HSE INTERCOOLER RIGHT 2013 2014 2015 FPLA 8D048 AA L25952 OEM. Shop with confidence on eBay!