Discussion Starter
•
#1
•
AC/HEVAC/Compressor Clutch confusion..... A solution? Maybe.....
Afternoon all.
Been trying everything I can think of to narrow down "issues" with my ac.
Will put details here in case it helps anyone else! Thought I would put a new post rather than updating my other ac posts. Hope that's ok.
To summarise I had been having various issues, replaced condenser, receiver dryer, had a regas, then replaced trinary switch. The compressor would kick in, and then out again.
Assumption was this might still be because HEVAC was not getting a correct read from the trinary switch.
I removed the HEVAC unit yesterday to inspect, and it had a sticker on suggesting it had been replaced in 2008 and the unit had come from keymancars.
I took a picture of this as it had a part number (or so I thought) but this didn't correspond to anything I could find. (370125029809).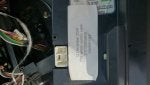 Put everything back together, and did some more internet searching.
Made a list of a few things to try, and as weather is good today, gave them a go.
First question, was did I have Relay 10?
Yes I did. I think this means I have the extra wiring harness, possibly confirmed by presence of Relay 3?
I had tried jumping trinary switch previously, but wasn't sure if this was when handbook symbol was already showing or not.
Today I tried jumping the trinary with engine off, then starting up.
Same issue. Compressor kicked in, and then out.
I tried jumping the other pressure switch.
Same as above. Compressor kicks in, then out.
I found this link last night.
http://www.stockholmviews.com/p38/index.html#hevac
This raised the question about using pre/post 98 HEVAC units with opposite age cars.
As I have a 2000 4.6, I wondered whether the unit replaced in 2008 was perhaps not the right one?
The link suggests jumping the Relay 3 (85/87 terminals I think) as a solution to the HEVAC unit not registering the right current draw, and thus cutting the compressor clutch. I've attached photo of my temporary jump, but there is also one on the above link.
Bingo! Compressor clutch ran fine, still stopping and starting, but I believe this is normal, and when it was running, it would run for longer, and cold air would be felt from the vents, and most important…. No handbook symbol!
Following this, I removed HEVAC unit again, to find out what I should have noticed yesterday…..
As you can see from the attached photo, the HEVAC unit shows part AWR1012.
I'm not sure whether this means it's older or not. There are ebay items listing this as '97 vehicle, but also ebay items listing AWR5051 as being from older cars.
The question for the experts is….. Am I likely to cause any damage to anything by using this Relay 3 hack? The fact that the compressor clutch still cuts in and out, suggests to me that pressure/temperature readings are having an effect, so there shouldn't be a risk of overloading the system. I could be wrong of course….
Clearly, if I have the "wrong" HEVAC unit, then a better solution would be to get the right one, but these aren't cheap, and buying from ebay etc, has no guarantee of a proper solution if the unit doesn't work properly.
On a side note, with HEVAC unit removed, I also found what appears to be a blend motor harness which has been cut. Photo also attached.
It looks like a normal blend motor harness is plugged into HEVAC, and I think that this cable has likely been left as it is very tight in the behind dash lattice of supports, so perhaps has been cut and left. There was certainly no play in it. As my blend motors appear to be working, this will be on the back burner, but if they start to play up, I guess it will need more investigation!
Any thoughts gratefully received!
Cheers
Matt