2002-2005 Range Rover MkIII / L322
Discussion Starter
•
#1
•
After drowning my amp, radio and TV unit about 2months ago I was getting a bit fed up of it being so quiet in the car, also fed up of the archaic GPS unit and the lack of Bluetooth I decided to look around for a replacement.
I've had several Erisin all in ones over the last few years so I contacted them and asked what they could do, well they have just bought out one for the BMW so it will fit the Range Rover without problems.
They did me a good deal on a ES9753EU 7" Pure Android 4.2.2 with a car camera and a 6mtr power lead for £330 all in delivered with them paying the import duty, it was here in 4 days from China...
It has....
- 7 Inch super wide Screen
- Google Android 4.2.2 Operation System, Capacitive Touch Screen, Digital Screen (800*RGB*480)
- Dual-Core 1.6GHz CPU, 1GB RAM, 0.98GB ROM, 5.6GB Internal Memory,
- support extended Media Card/GPS Card/2 USB Stick up to 4*32GB
- Built-In Clock and Calendar
- 8 Panel light colors, and you can setup hundreds of colors via RGB Combination
- Choose 76 open unit logos and Radio Area in Factory Settings
- Built-in WiFi Modem, support 802.11b/g/n WLAN
- Support Dual Zone function, while Navigating you can listen music
- Support Android Multimedia Player, it can play Music/Movie/Photo from local Disc or connected TF Card.
- Support read and edit Official Software, WORD/EXCEL/POWERPOINT/PDF/TXT.
- Support Google Play Store, you can download thousands of Apps
- Support Torque Pro (OBD2 & Car), you can connect a ELM327 Bluetooth OBD2 Scanner Tool to use this function.
- Support 3D Games, HD Video, 1080P, H.264, DIVX Live images Formats
- Support HD Videos up to 1920*1080 pixels, Photo up to 4096*4096 pixels
- 4 x 50w Surround Stereo, Subwoofer Output
- Support Bluetooth hands-free function, built-in microphone and external microphone Jack.
- Support A2DP Bluetooth, can play stereo music through Bluetooth from your Phone
- Download phone book function, you can download contact information from your phone to this unit
- Radio Tuner with RDS, 30 Preset Radio Stations
- USB Port and Micro SD Slot, Support USB Stick and Memory Card up to 32GB
- Built-in Car DVR System, just connect with a USB Camera to use Car Record function. the records will be saved in
GPS card automatically, and you can play saved record on this unit directly.
- Support DVB-T/ATSC Box input, Touch Control and Power supply
- Support Rear View Camera input and reverse trigger Control
- Support Steering Wheel Control, special CanBus Decoder incl.
- Last Position Memory
and a few other things as well, although I haven't found the coffee making app yet!!!
I needed one with a built in amp as I've wired it in directly to the speakers, it does come as plug and play but this plugs into the radio socket so the amp has to work to get any noise...
Was straightforward to fit, had to trim some plastic off the dash cradle to get it to fit right but nothing too taxing, ran the lead to the rear, also had to buy an aerial lead and a fakra adapter.
The steering wheel controls work great and you can customise them if you want different functions.
The night time illumination was taken to the can bus box but didn't work on mine so I wired it directly to the lighting circuit and it works fine now..
I must say it is very good, the 1.6Ghz dual core CPU is very fast and button presses are instant (this was a failing with the earlier ones, you had to wait about a second for any response)
The brightness and clarity of the screen is excellent, and being Android based you can have just about anything you like on it....
Just thought I'd let people know how good it is if they are thinking of getting one..
Basically you rip out all this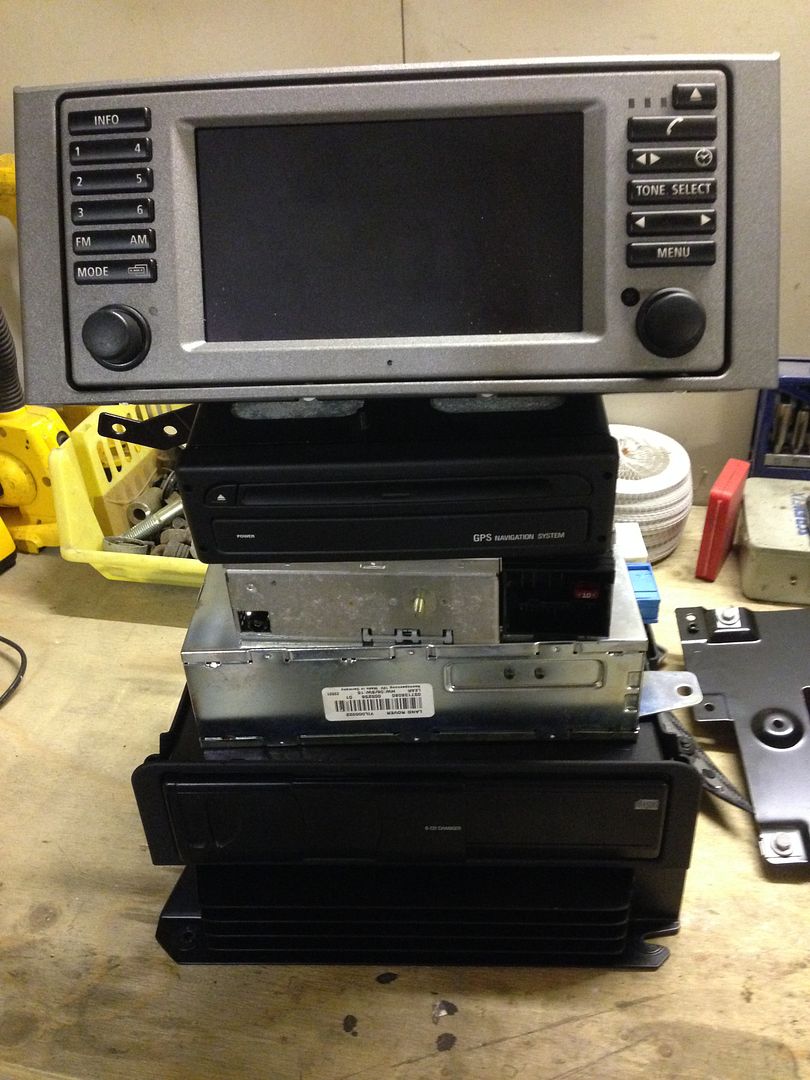 get the soldering iron out, well you do if you did it my way... and you end up with another large cubby hole in the boot and this in the dash
http://s252.photobucket.com/user/arativ/media/Range Rover L322/2014-08-16171511_zpsa4932afb.jpg.html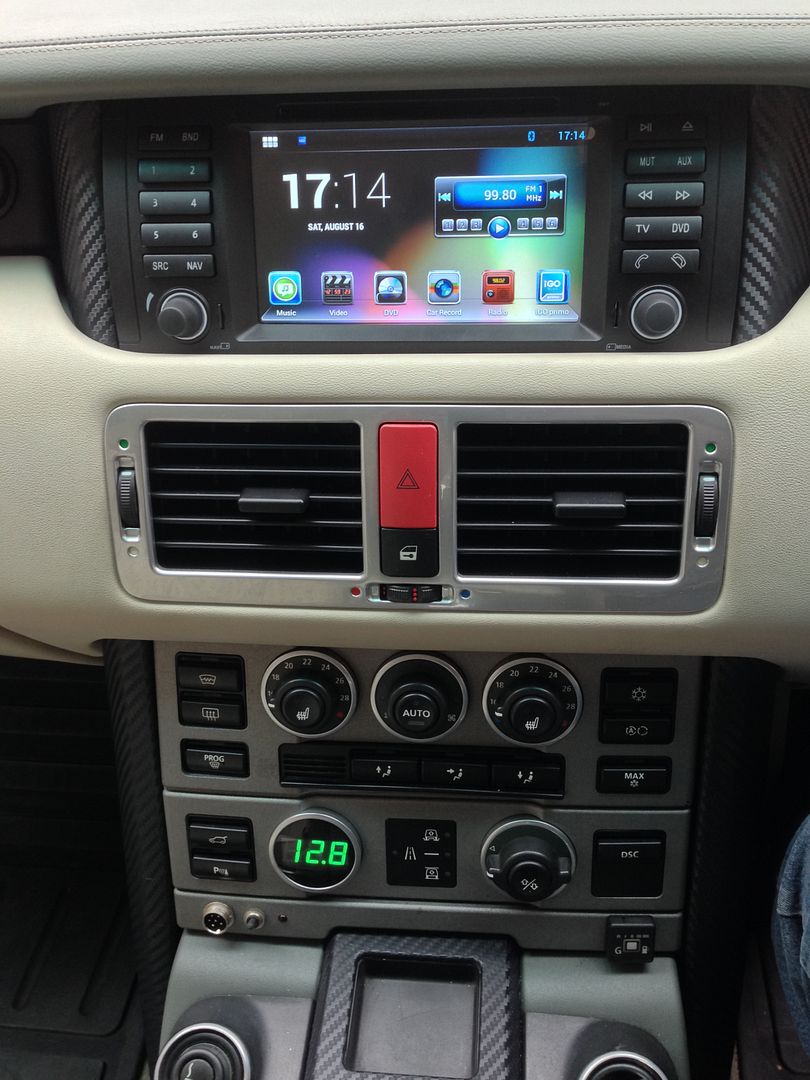 I never used the analogue clock that was set by the old head unit so I decided to replace it with a voltmeter... managed to get a green one to match the dash lights, removed the innards from the clock and fitted it behind the original front.... The head unit has a clock on just about any display and I've still got the one on the gauges as well
http://s252.photobucket.com/user/arativ/media/Range Rover L322/2014-08-16171556_zpse2c27889.jpg.html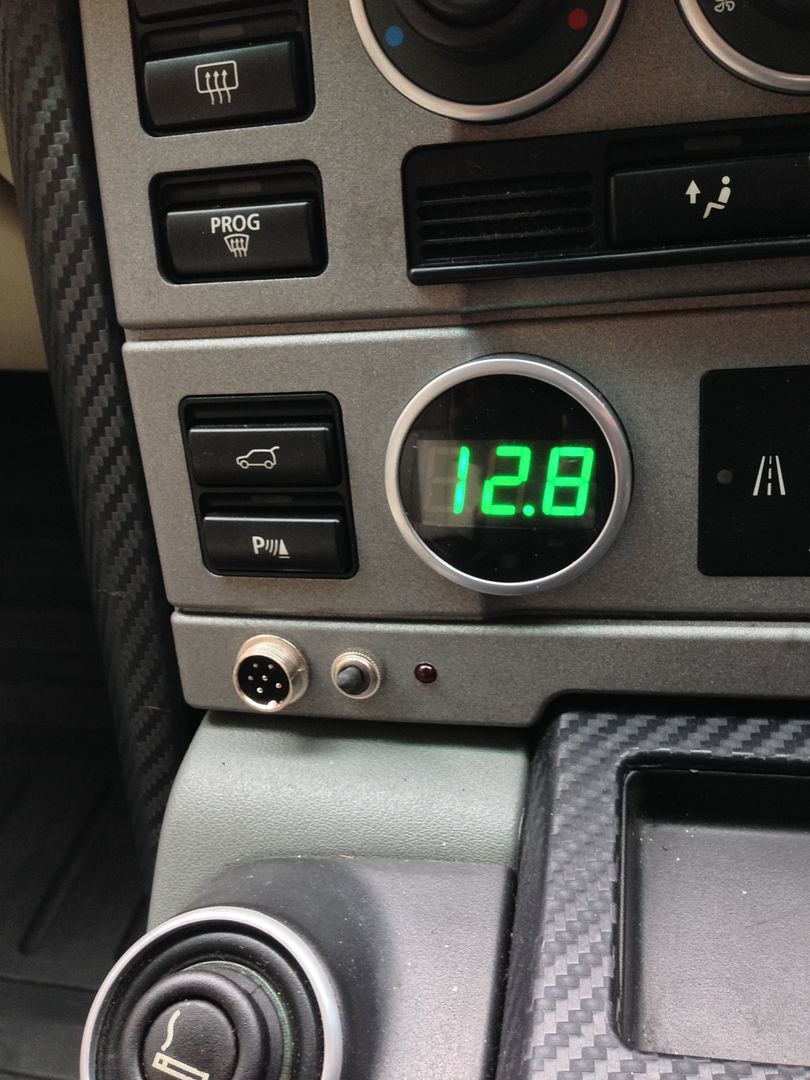 A couple more pics
http://s252.photobucket.com/user/arativ/media/Range Rover L322/2014-08-16171621_zps02fbd900.jpg.html
http://s252.photobucket.com/user/arativ/media/Range Rover L322/2014-08-16171729_zps104ce5d4.jpg.html
If anyone wants detailed fitting advice then just let me know...